See what's happening downtown
Downtown Kelowna is host to many exciting events all through the year. Whether hosted by the Association, the city, or other businesses or partners you're sure to find something fun to do in #downtownkelowna. Find out more about what's happening below.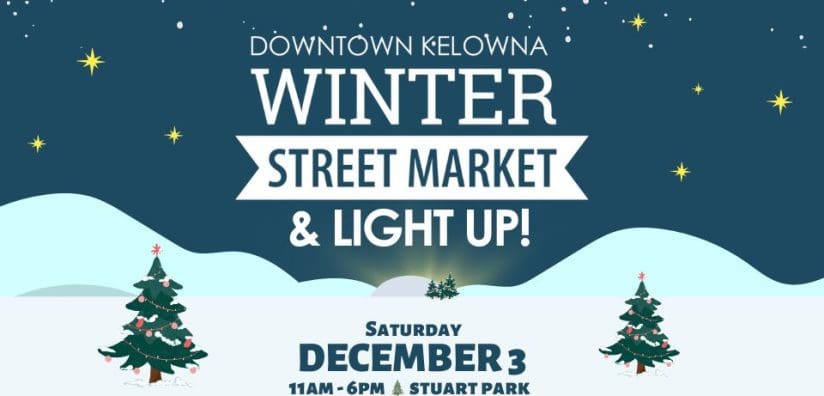 Celebrate the magic of the Holiday Season at the Downtown Kelowna Winter Street Market & Light Up on Saturday, December 3 from 11am-6pm at Stuart Park.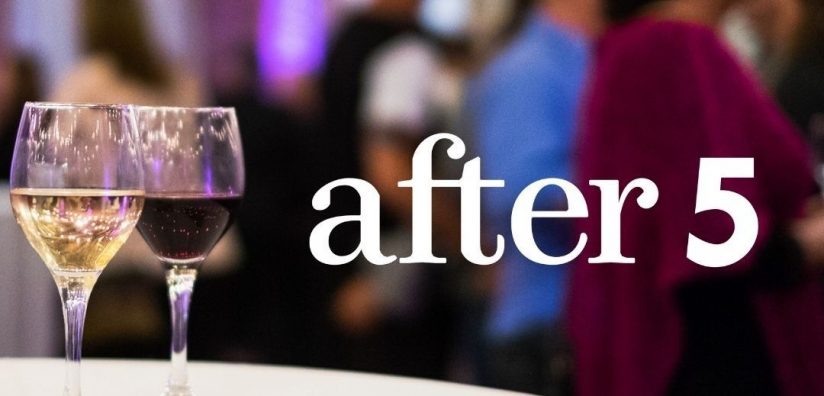 Arguably Kelowna's best business casual mixer, Downtown Kelowna After 5 turns traditional networking into a chance to unwind and get to know your neighbours. These events routinely draw 200+ guests looking to socialize, network, share ideas, and have a great time 'After 5'.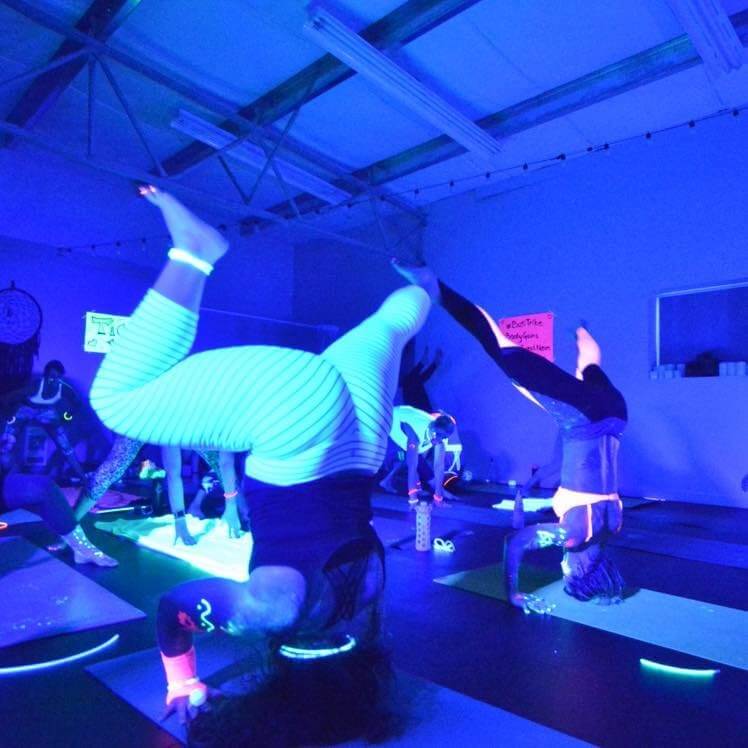 Buti Yoga Glow Event with A Live DJ Abstract & Champagne!
Buti Glow is going to be the best night out ever!
Our DJ Abstract will be playing some sick beats that will never get old mixed with some new hip-hop beats. There is nothing like adorning yourself in a sweet outfit and letting your body move freely & without judgment outside getting grounded with strong people to make you feel like a freakin' goddess.
So, pull out all that neon and white clothing and come on down for a wicked night that has everything. We will have an amazing Buti yoga class, live DJ BEATS followed by champagne.
So, save the date! Buti Glow is a special event that fuses fun and fitness, so get ready to shake your asana! During this hour's class, we will cover ourselves with glow paint and sweat with intention for a 60-minute flow in black-light. Buti Yoga infuses yoga, dance, primal movement, and plyometrics to create a movement that feeds our soul.
•7:00 Show up and glow up
•7:30 Move and Groove
•After the class, of course, we will be celebrating with some champagne if you don't drink or are underage, I will have kombucha. 🙂
•Glow accessories and paint will be provided. Wear your best outfits and incorporate some white or neon colours.
•Bring water + your mat!
•LIMITED space available. This event will sell out first come first serve.
•Save your spot! e-transfer $40 to buddhabeatsyoga@hotmail.com
•For tickets email transfer Aleena.
Please include the event date and the full names of the people coming and your email in case I need to get a hold of you. Upon your arrival at the event, you just tell them your name at the door.
•For more information, please contact Aleena McKinnon
•Telephone: 1-250-808-1764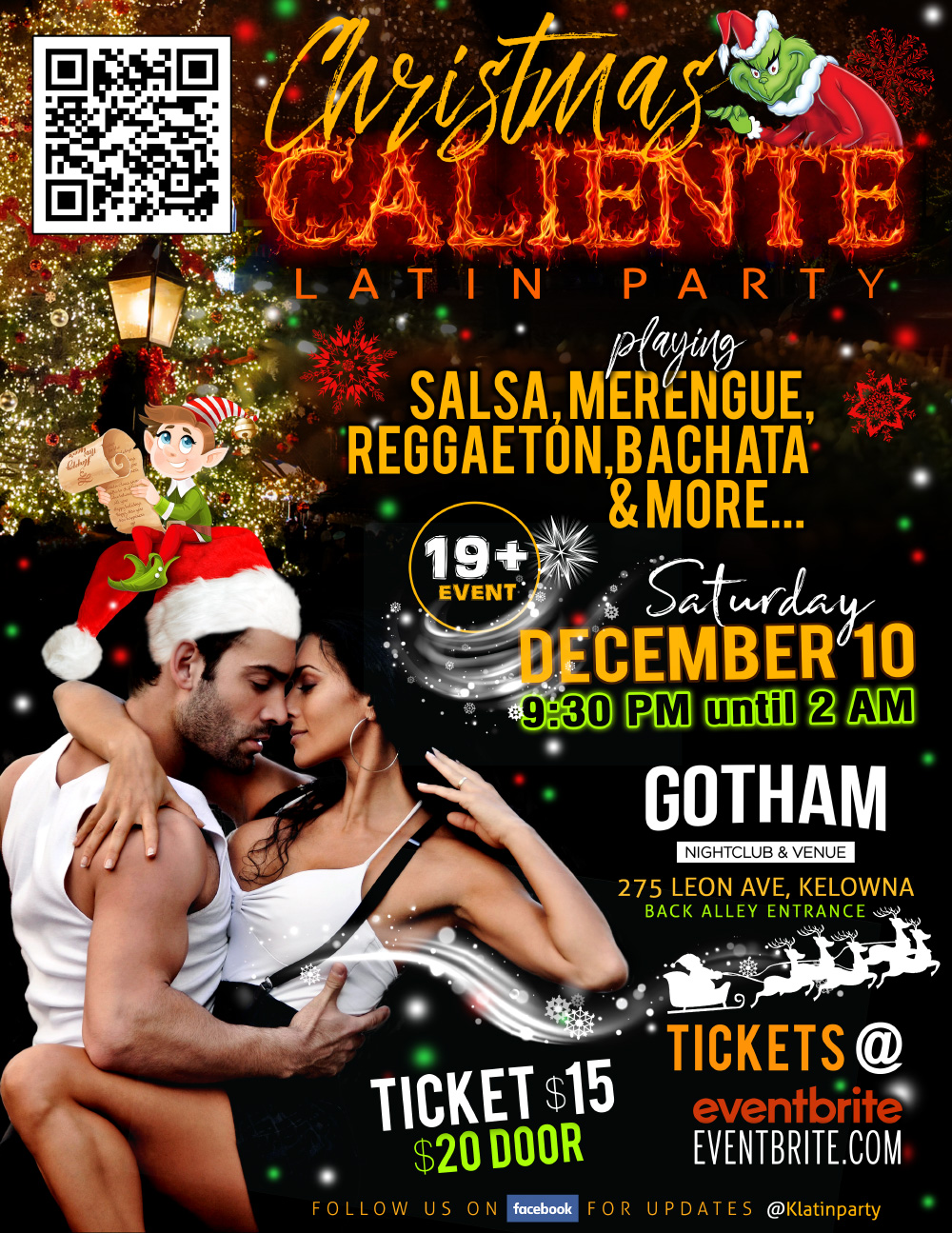 Christmas Caliente Latin Party
December 10th! The last Caliente Latin Party in 2022 is here! Let's celebrate with the best Latin rhythms at the best Latin Venue in The Okanagan. We're holding the event on the 3rd floor of Gotham Nightclub, however, capacity is limited so you'll want to arrive as soon as possible or get a ticket prior to that night. A night with an unbelievable mix of the best exotic music and dance styles transporting you to a tropical paradise where the partying lasts all night long! CALIENTE Latin Party bringing the biggest and Best Latin Nights in The Okanagan! Salsa, Bachata, Reggaeton, Merengue, Cumbia and much more...
Please enter via the back alley. Unfortunately, the venue is not easily accessible as there are steep stairs to gain access. The host venue abides by safety and security standards which include the use of proper footwear and having two pieces of identification available at all times.
ADMISSION
Pre-sale tickets are $15 and available until Saturday, December 10th at 8 PM @ Eventbrite. $20 at the door.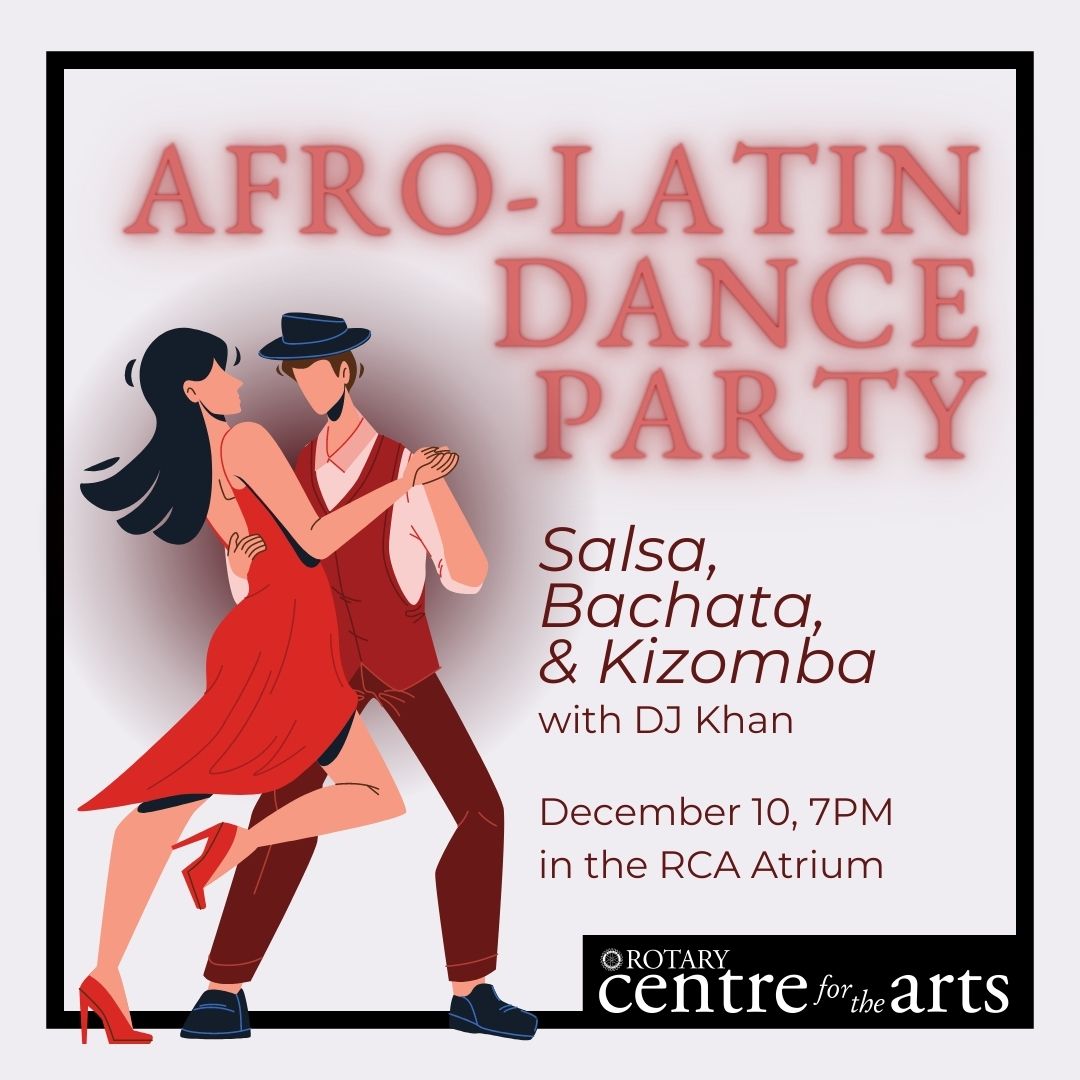 Afro-Latin Dance Party at the RCA
Calling all Salsa, Bachata, and Kizomba dancers! Join us for an evening of dancing at the RCA in our South Atrium with DJ Khan.
$15 in advance or $20 at the door.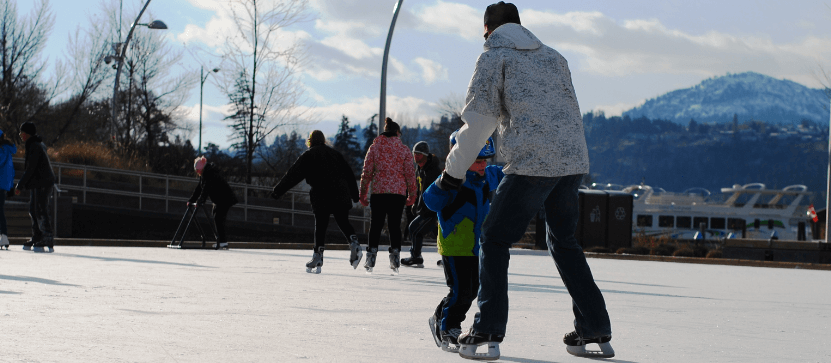 A magical day, kicking off the holiday season with thousands of visitors in the heart of Downtown. Loads of vendors and activities to get the whole family into the holiday spirit.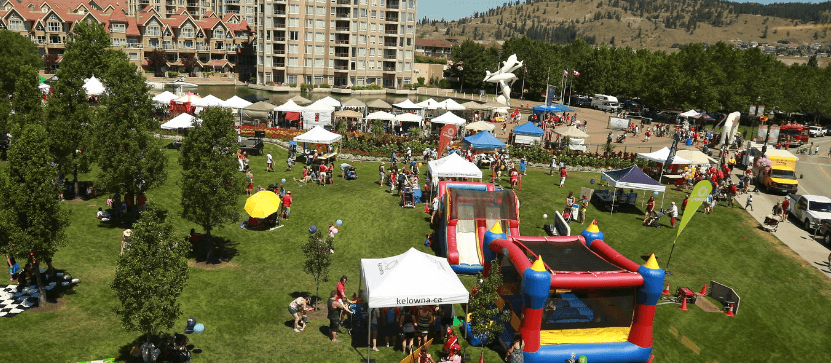 Explore local eateries & drinkeries with Taste of Downtown! Celebrate Downtown Kelowna's food & drink scene by trying delicious free samples, collecting signatures in your passport and entering to win great prizes.
Get the latest news on what's happening downtown, right in your inbox!