SHOP SMALL ~ Support local!
Small Shop returns this September 22-24, 2023 and will coincide with Show N Shine on Bernard. 
Fall 2023 Small Shop Winners
Congratulations to the winners of our Small Shop Hero Contest!
Thank you to all the businesses that participated in Small Shop Weekend (Sept 22-24) and to all those who continue to support small, locally-owned businesses.
You clearly love Downtown Kelowna and we love you right back! We've got everything you need — right here in the Heart of the City.
Small Shop WEEKEND:  September 22-24, 2023
We hope you'll join us to support the many small businesses that contribute to the vibrancy of our Downtown. Participating businesses will feature in-store events, promotions, specials and more. 
By shopping local, you assist our regional economy by helping to keep dollars and jobs in our community.
Visit Downtown Kelowna during Small Shop Weekend and play the Small Shop Hero Contest. Details below!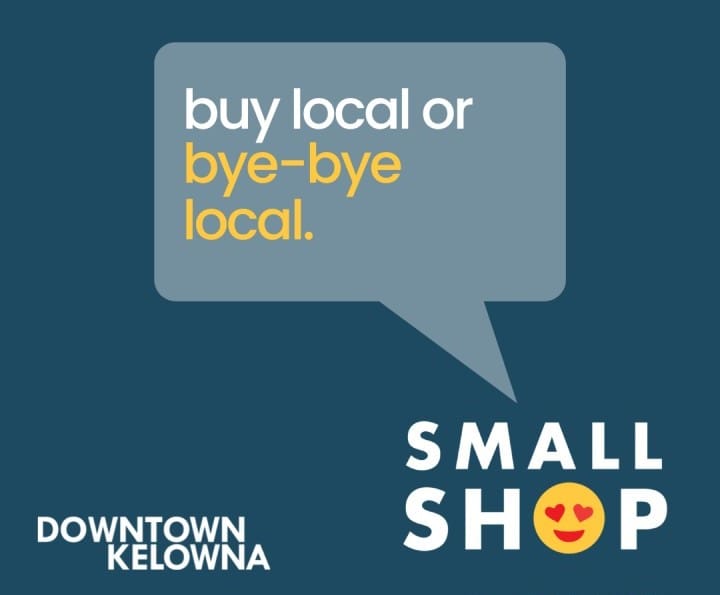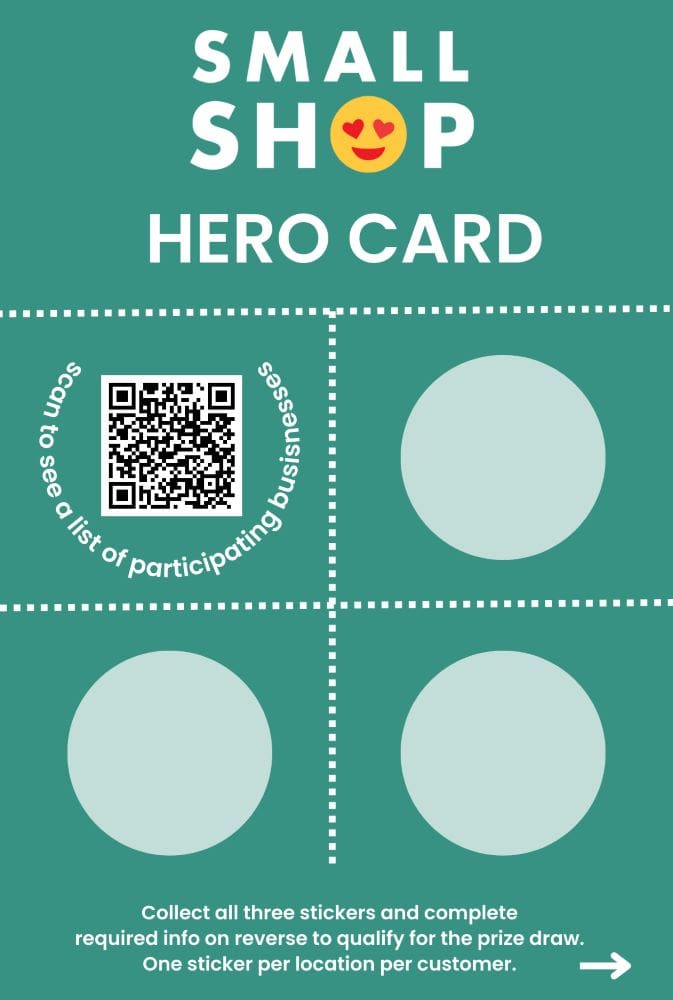 Small Shop Hero Contest
How to play:
Step 1: Pick up your Small Shop Hero Card at any participating business beginning Sept 18, 2023.
Step 2: Visit Downtown Kelowna from Sept 22-24 for Small Shop! Collect three (3) "Happy Face Emoji" stickers from any participating business and stick 'em on your Hero Card.
Step 3: Once all three (3) stickers are collected, complete the entry form on the back of your Hero Card and ENTER TO WIN at any one of the four (4) ballot box locations.
Only completed Hero Cards are valid for entry. A draw will be made on Wednesday, Sept 27, and the winner will be announced on Thursday, Sept 28 (see Contest Rules).
Draw Box Locations
Drop off your completed Small Shop Hero Card at any of these four (4) Downtown Kelowna locations:
olive & elle (1585 Pandosy St)
Lost Together (287 Bernard Ave)
Okanagan Lifestyle Apparel Inc. (1295 Cannery Lane #115)
The Hype Kelowna (543 Bernard Ave)
Thank you to all DKA Business Members who joined us for Small Shop in 2022. 
Your next chance to participate in Small Shop will be April 2023.
Contact kris@downtownkelowna.com or call 250.862.3515 for more information.
DRIVING DOWNTOWN FOR SMALL SHOP?
Fri, Sept 22: Regular parking fees and time restrictions apply.
Sat, Sept 23: Enjoy the first 2 hours of on-street parking FREE! Time restrictions apply beyond the 2 hours;  use the pay-by-phone app or any pay station.
Sun, Sept 24: On-street parking is FREE.

NOTE: Parking in any of the three City-owned parkades is FREE every Saturday & Sunday. 
Businesses That Participated
Contest Period
1. The Small Shop/Big Deals Contest (the "Contest") begins on Saturday, September 24, 2022 at 10:00 am Pacific Daylight Time (PDT) and ends on Saturday, September 24, 2022 at 9:00 pm PDT (the "Contest Period").
Eligibility
2. The Contest is open to all residents of Canada (excluding Quebec) who have reached the age of majority in their province at the time of entry AND/OR any minor that has explicit permission granted to them from their parent or guardian at the time of entry.
Sponsor
3. The Contest is coordinated and facilitated by the Downtown Kelowna Association, or DKA (the "Sponsor").
How to Enter
4. To participate in this Contest you must:
a. Visit one of the participating businesses on September 24, 2022;
b. Receive a ballot from an authorized representative of the participating business you visited, and only during the Contest Period;
c. Be responsive within 24 hours of being announced a winner either by telephone call, email, or Instagram and/or Facebook direct message;
d. During the Contest Period, submit a completed ballot. This form must be fully submitted and must also include the purchase location and amount of purchase; each submission is considered one (1) entry into the contest.
BY SUBMITTING AN ENTRY, YOU ACKNOWLEDGE THAT YOUR NAME MAY BE POSTED ON DOWNTOWN KELOWNA'S WEBSITE, INSTAGRAM, AND FACEBOOK AND/OR SPONSOR'S PROPRIETARY WEBSITE, WHERE IT MAY BE VIEWED, SHARED (BY USERS) AND COMMENTED ON MY THE SPONSOR AND THE GENERAL PUBLIC).
Draw and Winner Selection
5. Contest participants will be entered into a randomized draw on Tuesday, September 27, 2022 at approximately 3pm PDT. Multiple draws will be made. The odds of winning depend on the number of eligible entries received.
6. The selected entrants will be contacted privately by telephone call, email, or Instagram and/or Facebook direct message and notified that they have won. The selected entrants must then reply within 24 hours to accept their prize. If there is no response within 24 hours, the sponsor reserves the right to re-draw and choose a new winner.
Prizes
7. There will be a total of five (4) prize packs awarded:
a. One (1) $25 Gift Card from frock & fellow;
b. One (1) $25 Gift Card from Kelly O'Bryan's and one (1) Gift Card from Kelowna Beer Institute;
c. One (1) $25 Gift Card from frock & fellow, one (1) $25 Gift Card from Funktional Gifts, and one (1) $25 Gift Card from Naughty Girl Essentials Lingerie;
d. One (1) grand prize available to be won, consisting of "The Amora Package" from Amora Day Spa – includes a 55 min. Full Body Massage, 55 min. Signature Facial, and a 55. Signature Manicure OR Pedicure (approx. $180 value), one (1) $25 Gift Card from Funktional Gifts, one (1) $25 Gift Card from Kelly O'Bryan's, and one (1) $25 Gift Card from Mosaic Books.
Prizes must be accepted as awarded and are not transferable or convertible to cash. No substitutions except at Sponsor's option. Sponsor reserves the right to substitute a prize or a prize component with one of equal or greater value, including without limitation, but solely in the Sponsor's discretion, a cash award. Prizes will only be awarded to the person whose name has been drawn.
ONE lucky participant will win EIGHT $25 gift cards Including:
1x$25 gift card for Cadence Shoes
1x$25 gift card for Train Station Pub
1x$25 gift card for Little Boutique on Ellis
1x$25 gift card for Urban Gardener
1x$25 gift card for Olivia's Oil & Vinegars
1x$25 gift card for Simply Computing
1x$25 gift card for 1000 Palms Swimwear
1x$25 gift card for Burnett's Florist & Gifts
Get the latest news on what's happening downtown, right in your inbox!