If you've spent any time in Downtown Kelowna you've seen the iconic red jackets of our On Call Team patrolling the streets. What you might not know is those red coats play a key role in keeping the streets of Downtown Kelowna safe and enjoyable for everyone to use.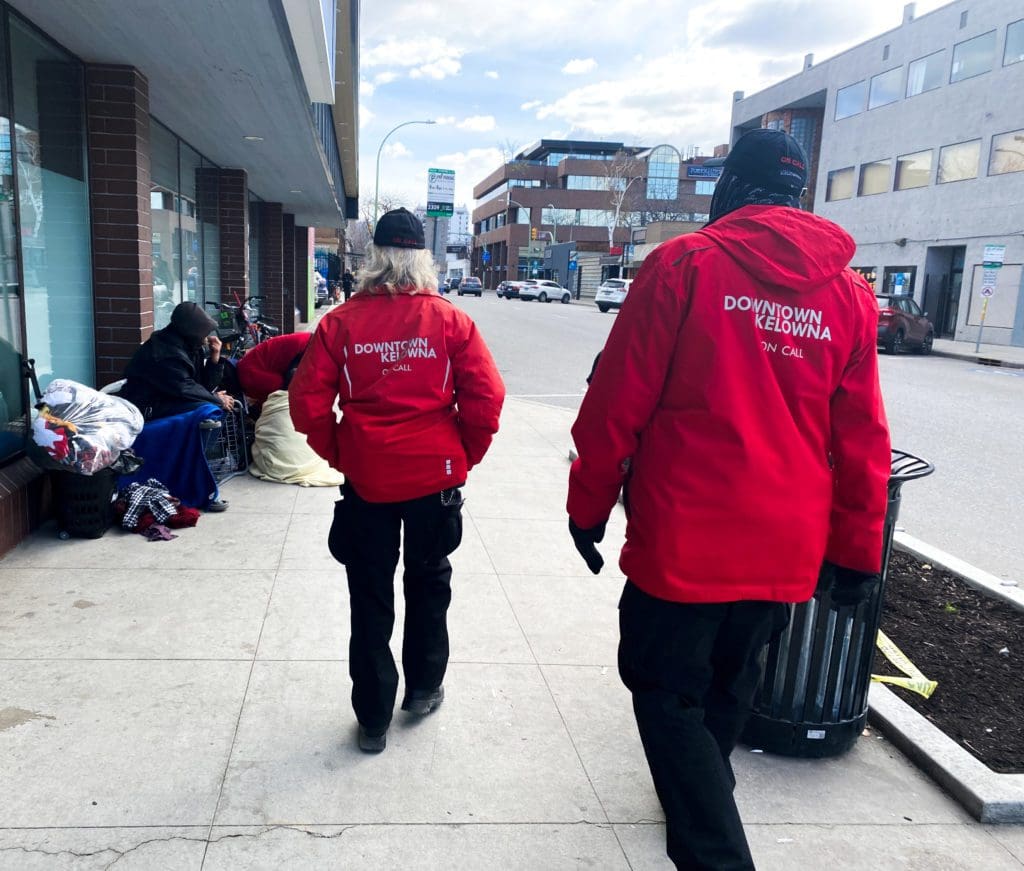 The History:
In 2002, the DKA began what was known as 'Downtown Patrol', hiring a local security firm to assist with street-level issues that were directly affecting businesses. In 2008, the Board recognized that the DKA would need to establish its own street-level department to better align with the organization's values. With that decision made, the Downtown on Call (DOC) Team was born.
The DKA Program Manager Ron Beahun, was named On-Street Services Manager, and alongside him 5 other team members were hired for patrol duties. Since then, the DOC Team has grown to include the Clean Team (we'll have a separate blog coming out about this team!) with 14 members now compromising the DKA's On-Street Services Department.
The philosophy behind the duties of the DOC Team transitioned to a consultative, respectful approach whereby Downtown on Call Ambassadors helped to enforce the law through education and communication instead of aggression. During their patrol of Downtown Kelowna during business hours, the DOC team assists with loss prevention, offers support to people threatened by aggressive individuals, and provides "safe walks" to and from workplaces for employees of Downtown businesses.
Other Downtown on Call Ambassadors duties include:
Providing wellness checks to individuals in distress or sleeping on the street and helping them to move on
Working throughout the day to help enforce the law through education and consultation with the disenfranchised public
Engaging the public through respectful and caring conversation rather than taking an aggressive, hands-on approach
Maintaining safety and security in Downtown Kelowna by remaining visible, vigilant, and available
Keeping properties clean for the business day
Needle pick-up and collection of discarded drug paraphernalia
Providing safe walks and/or escorts for employees of Downtown businesses to do bank drops or perform other tasks
Providing safe walks and/or escorts to visitors to Downtown Kelowna upon request
Acting as a liaison between business owners and social service agencies
Ambassadors receive Emergency Mental Health First Aid training, OAC 1 First Aid training, and training for the administration of Naloxone in case of opioid overdose. Ongoing educational opportunities are made available as new challenges present themselves.
Taking a Walk with the Team
Wanting to learn a more about what the DOC Team does daily, I took the opportunity to tail two long-standing members, Peter and Archie, for a couple of hours on a sunny Spring morning. It was an eye-opening experience, discovering how many roles and duties our Ambassadors take on. From visiting shop owners to see if they've run into any troubles that day, to taking calls from members of the community about discarded waste or other paraphernalia, to checking in on the transient population whether it be to provide advice on services or to politely ask them to move away from a doorway – the team is busy.

The manner in which the team approaches such vulnerable members of our community really sheds light onto how well-trained DOC Ambassadors are. They give tips as we go: "Look directly at who you're speaking to, hold their gaze, let them know they're seen, they're heard, and you're speaking with them." As they converse with these individuals, it's pretty clear that they've built a familiarity that allows them to approach with ease.
I only spent a short time with the duo and saw just a fraction of what they come across daily, but this little glimpse into their world certainly helped me to understand why this team is such a crucial part of the Downtown Kelowna Association.
Final Thoughts
Through perseverance and dedication, On-Street Services has been overwhelmingly successful at meeting their objectives. A province-wide opioid epidemic, lack of funding for mental health care, inadequate supportive housing, and rising inflation—all coupled with a rapidly growing urban centre—continue to keep the On-Street Services department busy. Despite these challenges, On-Street Services are consistently held in high regard by business owners, property managers, visitors to Downtown, and residents of the Downtown core. Our Downtown streets are safer and cleaner, communication with social service agencies is consistent and effective, and On-Street Services is now viewed as a direct conduit between stakeholders and the RCMP. The hands-off, consultative approach continues to prove an effective method of managing the disenfranchised population and we will be forever grateful for the work they do.