It's been quite the journey for Grey Hearts Denim co-founders Sean Whyte and Paul Reyes. Divine timing played a huge role in how they came to find themselves on the cutting edge of cool in Downtown Kelowna; but, so have perseverance, innovation, and keen awareness of community.
Sean and Paul met each other years ago through a mutual friend in Vancouver. While their paths diverged for a time, they eventually reconnected here in the Okanagan and began discussing how to leverage their experiences in the fashion industry to build careers here. "It was slim pickings in Kelowna for a career in fashion," says Sean, "so we decided to be the change we wanted see." Sean's background in fashion marketing and film work, together with Paul's education and experience in fashion design were the perfect combination as plans for what would become Grey Hearts Denim started to come into focus.
The end goal: become business owners, offer Kelowna an elevated fashion experience, and give back to the community.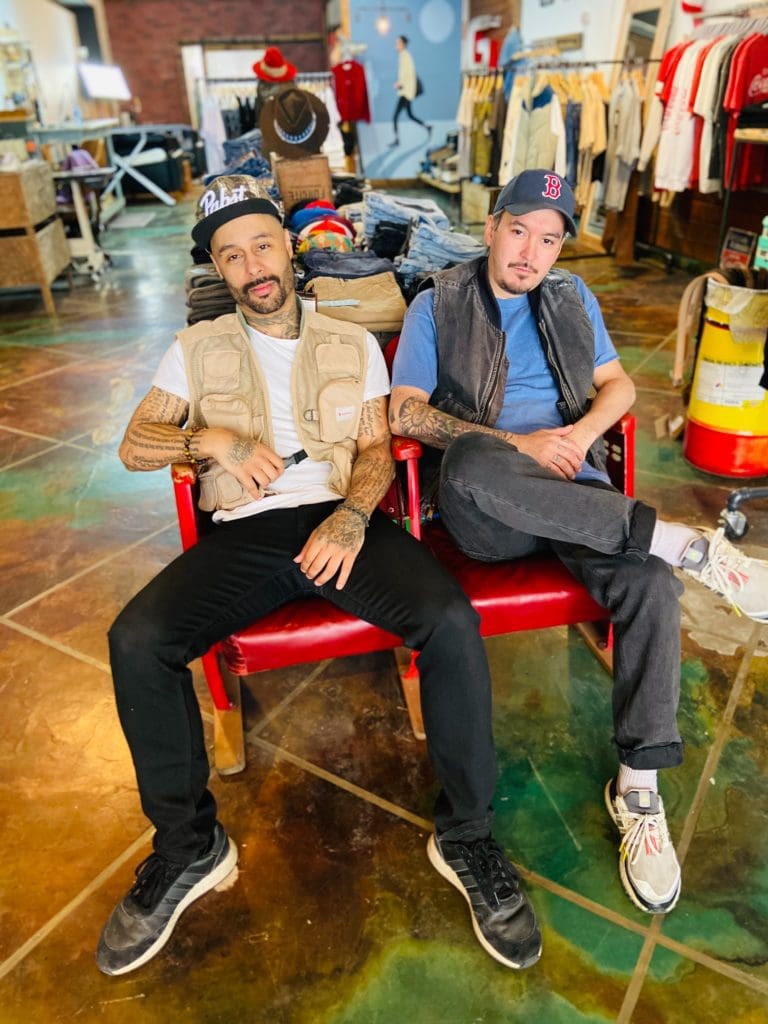 The business would need a location, and as luck would have it there was a space available Downtown on Pandosy Street. The pair pulled up to 1615 Pandosy to find one open parking space directly in front remaining, with 45 minutes still on the meter. "It's like it was waiting for us," muses Sean. The leasing agent just happened to be there at that moment, and they took the opportunity to view the location. "We didn't even look at another space," he continues. "We knew this was it."
Grey Hearts Denim was well on its way. A 'soft launch' for the new business was held in January 2020, the Grand Opening followed on February 15, but by March 15 the doors were closed thanks to the COVID-19 pandemic. With the original business plan out the window, Sean and Paul came into the shop everyday to ponder what their next move was.
Then, an epiphany: the pandemic had created a worldwide need for face masks, and Grey Hearts Denim had the materials and expertise to meet that need. Sitting on a shipment of raw salvage denim donated to them by a friend, they set to work making face masks.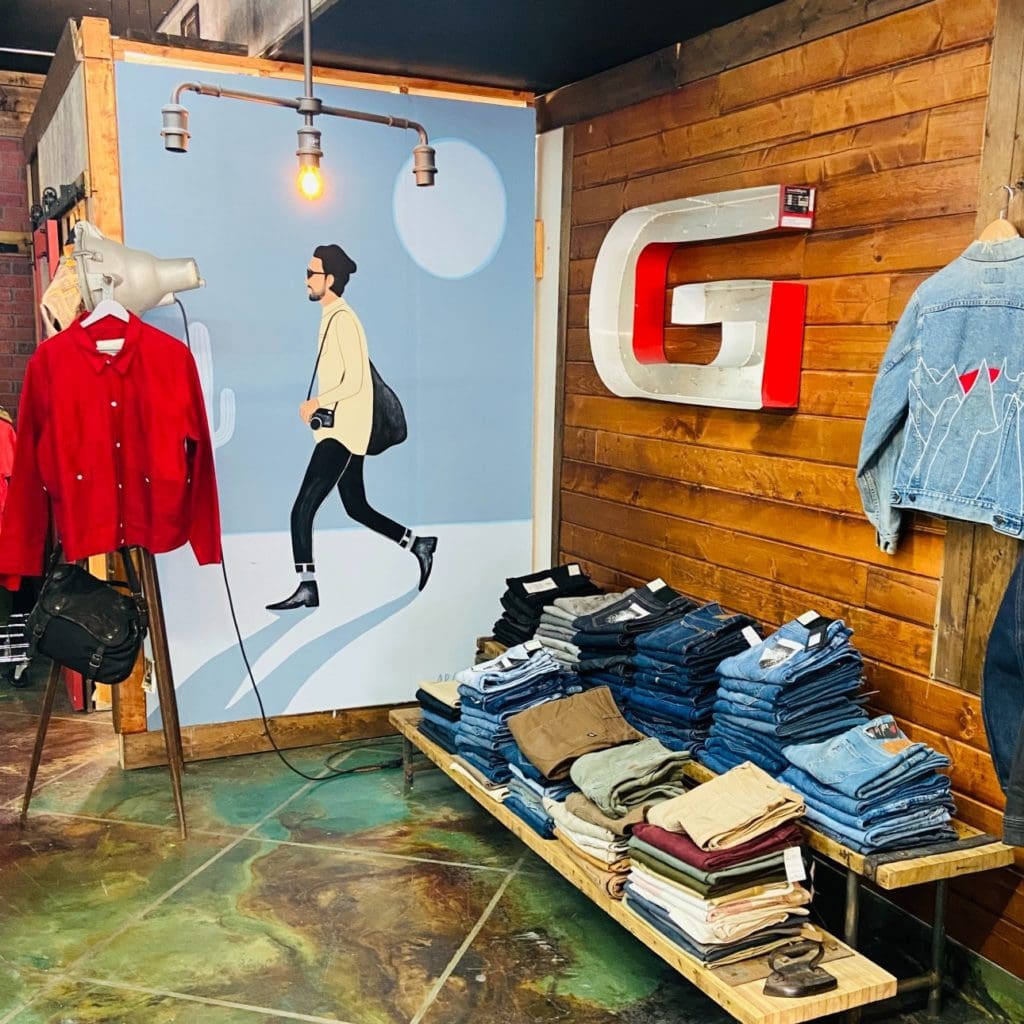 Their 'pivot' strategy eventually garnered Grey Hearts Denim world-wide attention. An internet search for "top places in Canada making face masks" drove waves of traffic to their website and before long the business was receiving inquiries from hospitals across the US. Their denim mask design was also becoming increasingly popular with customers as far away as Tokyo. Ultimately, selling cloths masks paid the bills and kept the business afloat, on top of allowing them to donate hundreds of masks.
Midway through 2022, Grey Hearts Denim has emerged from the pandemic with a multi-faceted business model and more connected to the local business community than ever. Grey Hearts employs three full-time owner/operators (Sean, Paul, and their business partner Carl Clark), along with providing contract to local fashion and apparel professionals.

At the bricks & mortar location, they carry new, vintage, lightly worn and reworked denimwear, streetwear and sneakers, as well as providing alterations and repairs. Customers will also find the in-house John Paul Reyes collection at Grey Hearts, along with apparel produced through collaborations with other local businesses. Committed to operating as environmentally and socially conscious as possible, they source as much product from BC brands as possible and vet the brands they carry based heavily on the suppliers' ethics.
It's evident that the emphasis at Grey Hearts Denim is truly on the guest experience. Anyone who has visited the shop knows that one must "buzz to enter," lending to an air of entering a private club. The strategy works to the advantage of the guest, who then feels as though they're a special guest on a private shopping excursion. Once inside, the visitor is treated to one-on-one attention, complete with a sense of ease and lively conversation.
Whyte and Reyes recognize how traditional operations are becoming less viable. "The industry and retail landscape has just shifted so much," states Sean. Their online store is a major component of the business, as is their social media presence—but their footprint in the digital realm doesn't end there. "We really needed to figure out how to bring our community into the store in different ways," he says. Harkening back to the days of pandemic closures, "We kept asking ourselves 'how can we bring them in when we can't bring them in?"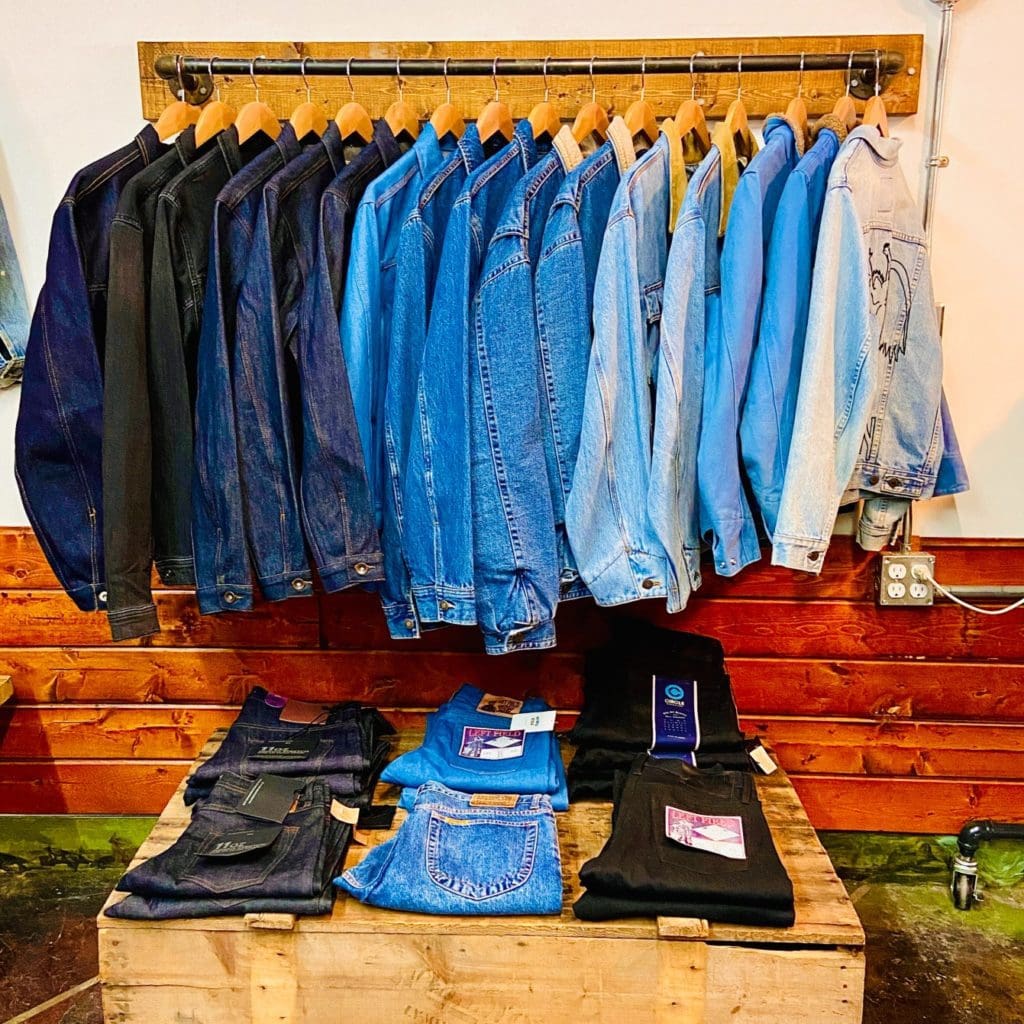 Enter the Grey Hearts Podcast. "We didn't just want to do Instagram all the time," Whyte says of their foray into digital broadcasting. Billed as a 'lifestyle podcast from the homies at Grey hearts,' the podcast features lifestyle discussions rooted in the fashion industry, entrepreneurship, social awareness, community love and relations. "With the podcast, we can talk about issues, talk about the community, have a drink, and introduce local artists through conversation."
With a full heart, Whyte expresses that he and Paul are "so grateful to everyone who's supported us in any way since the beginning." It's been said that what goes around, comes around – if you were to ask around, there would be a respectable number of Downtown businesses that can attest to the cooperative approach employed by Grey Hearts Denim in everything they do.
As far as what the future holds, Grey Hearts Denim aims to grow into Kelowna's premiere denimwear shop and online store, while continuing to offer their customers the best in-person experience possible and to make this community better each day. Stop by the store for your private shopping experience at 1615 Pandosy Street, or shop online anytime. Be sure to check out the podcast, and follow them on Instagram @greyheartsdenim.