As we celebrate Black History Month, it's essential to acknowledge and support the contributions of Black entrepreneurs in our communities. Kelowna is becoming more diverse and inclusive, and the presence of Black-owned businesses is a testament to this.
Two of these businesses in Downtown Kelowna are Grey Hearts Denim and House of the Caribbean. Grey Hearts Denim offers a unique selection of handcrafted, sustainable, and stylish denim products. House of the Caribbean, on the other hand, brings the vibrant flavours and cultures of the Caribbean to Kelowna through its delicious and authentic cuisine.
These businesses not only provide top-quality products and services, but they also bring diversity and cultural richness to Kelowna. We can help drive economic growth and foster a more inclusive community by supporting these businesses.
The House of the Caribbean
#101 - 541 Bernard Avenue
Now a staple in Downtown Kelowna, House of The Caribbean has operated since 2011 and has survived many changes over the years. The owner, Jack Taylor, spearheads the operation to bring culture and a bit of the Caribbean vibe to Kelowna. Jamaican cuisine is the main showcase with tastes from other Caribbean countries.
Jamaican cuisine is a delectable fusion of various cultural influences, including African, European, East Indian, and even some Asian. This intriguing mix of flavours and ingredients creates a unique culinary experience.
In addition to providing fantastic food, they are the people behind Okanagan Caribbean Festival, which has taken place in Downtown Kelowna at Stuart Park for many years.
Learn more about them by visiting their Facebook and Instagram.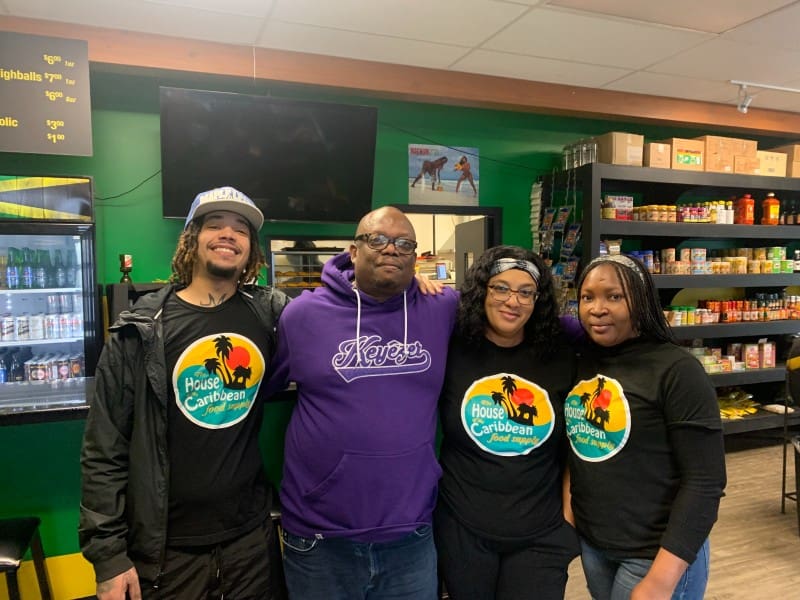 Another Black-owned business that's leading the future in denim is Grey Hearts Denim. Grey Hearts should be your first stop if you're in the market for stylish and well-made denim. They offer a wide selection of classic yet trendy clothing options as a store specializing in repairing and selling locally sourced vintage denim streetwear.
With collections like "Summer Sessions," "Black Rack," "Camo Famo," and "Collabs," there's something for everyone to choose from. And if you're attached to a pair of old jeans or a denim jacket, their skilled tailors can help repair and alter them to bring new life to your favorites. They also offer footwear, accessories, hats, and more, so you can complete your look from head to toe.